The following article is for information only and does not constitute medical advice. Consult with your doctor regarding any concerns you may have regarding heart disease.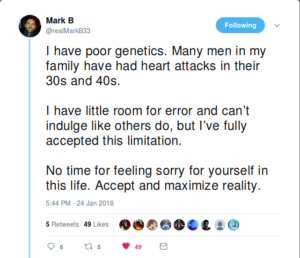 Mark is a smart, good-looking guy, so I don't think his genetics are all that bad overall. He's just a very open, honest guy willing to talk about problems that other men have too. If he has a family history of heart disease, then the problem might very well have a genetic component. Or for that matter, it might be a family history of certain lifestyle habits. He's wise to accept that he might have genetic risk factors, and to be willing to avoid indulgences.
Mark often qualifies his observations with "n = 1", meaning that it's a single data point consisting of his own experiences; he's not claiming that every man will have the same experience. I agree. Your mileage may vary as regards any information in this article, though it is broadly applicable and should be given due consideration.
Regardless of genetics, inflammation is one of the primary causes of heart disease. Inflammation damages tissues. Apparently your body uses cholesterol to patch up weakened arterial walls. The cholesterol was actually a symptom, not a cause, contrary to earlier beliefs about heart disease which caused a great deal of bad advice among my generation. People were avoiding negligible amounts of cholesterol in their diets while ingesting large amounts of trans fats that were advertised as "cholesterol-free."
Even if the susceptibility to heart disease is genetic, it might very well be a case of one body's defenses against inflammation not being as strong as someone else's who is highly resistant to heart-disease. So, reduce the inflammation.
Inflammation also increases risk of cancer. Fight inflammation, and you reduce your risk of both diseases.
First lifestyle change: Low inflammation diet
Here is Harvard Medical School's list of foods that cause inflammation (verbatim from their website; don't blame me):
refined carbohydrates, such as white bread and pastries
French fries and other fried foods
soda and other sugar-sweetened beverages
red meat (burgers, steaks) and processed meat (hot dogs, sausage)
margarine, shortening, and lard
I've already caused an uproar on Twitter for listing red meat, even though it's Harvard Medical School listing it, not me personally, because there's a meme going around that it's heart-healthy because it's "paleo", and because many people have strong emotional associations to eating red meat.
There's another meme going around that weak, effeminate men get that way from eating soy. I've observed that crowd at close range; at the risk of piling more generalities on, most of them eat about the same as the rest of you (in fact, "soy-boys" tend to have neurotic, conformist personalities that get obsessed easily, like believing that all soy is GMO (it's not) or that they're allergic to it (rare); their female counterparts are the type who report vegetarian parents to Child Protective Services); their hormonal problem is primarily genetic, and even to the extent that it's exacerbated by endocrine disruptors, those are mostly byproducts of technology. That's a story I cover elsewhere.
This is about helping men with possible genetic susceptibility to heart disease live longer. It's not about anyone else's emotions, conditioned beliefs, or self-image.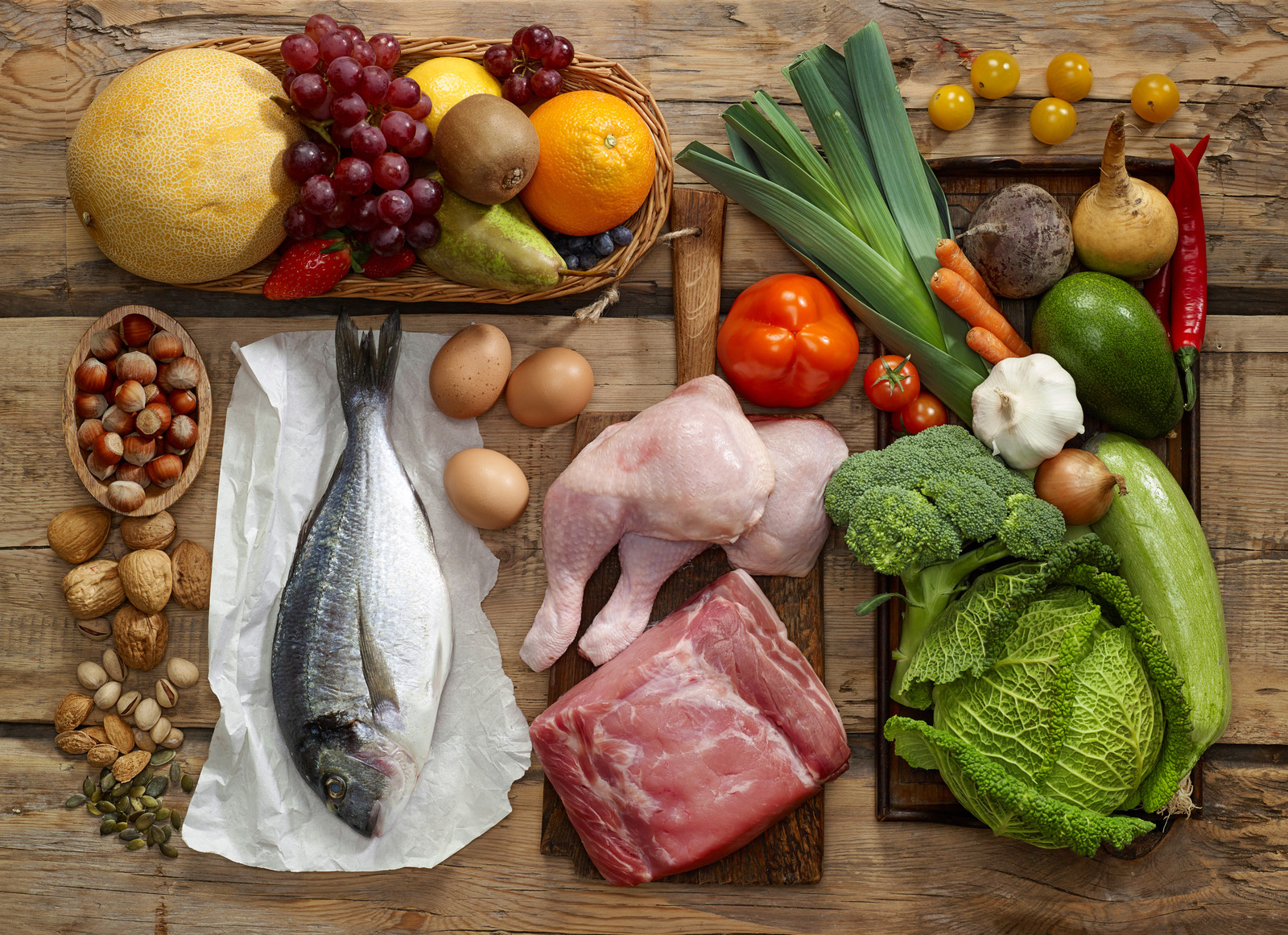 Not everything that's "natural" is optimal (strychnine is natural and organic!). Not everything that's optimal is natural. Humans have probably been eating red meat longer than they have fish (primates are usually lousy swimmers by nature, and terrified of water), but fish-eaters like the Japanese and Icelanders tend to live longer than red meat eaters. Not eating red meat probably is unnatural for humans. Regardless, it's a fact that pescatarians and vegans average more longevity than red-meat-eaters.
There's a reason, and it's a strange and counter-intuitive one. Due to a mutation that happened to our ancestors around 5 million years ago, we no longer produce a chemical called Neu5Gc. It triggers our immune systems as foreign. Other mammals still produce it, so mammalian meat is at least somewhat inflammatory to us.
Processed meats are particularly bad because of their preservatives.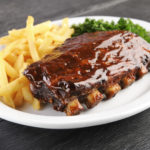 In the spirit of Mark's n = 1, I should mention that my buddy Tom gorges on red meat. He hunts deer and other game, and that's his and his family's prime source of protein. His dad who is also a hunter is quite robust for his age. There might be a genetic trait that goes the other way, giving that family high tolerances for red meat. Or maybe its habits like eating much less processed food than average Americans do that compensate. I do know that Tom is happy to get some of his protein from other sources, such as corn and beans which complement each other's imbalanced protein. He enjoys meat, red or otherwise, but doesn't have neurotic emotional reactions to the matter (or anything else).
It's not necessary to go vegan. But what if you want to? Some of the first low-inflammation diets that were tried (which do in fact work) were vegan. I don't think there's anything magical about not eating any foods derived from animals as regards avoiding inflammation; more likely they loaded the diets up with vegetables knowing they were low-inflammation or even anti-inflammatory. It's pretty easy to design heart-attack food that's vegan! If you want to go vegan, you'll avoid a few high-inflammation foods but you still need to avoid foods like deep-fried potatoes, sugary drinks, and too much refined carbohydrate.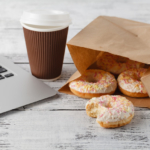 As far as carbohydrates go, the really bad one is sugar, specifically either fructose or sucrose. One of the worst ways to ingest sugar is in solution in a sugary drink, like a soda. Even particularly sweet fruit juices, like orange juice, apple juice, and grape juice are a bad idea. "Diet" soft-drinks have their own problems, including encouraging the wrong species of gut bacteria. Ironically this is why "diet" sodas can make you fat despite having no calories or negligible calories. Drink unsweetened green tea or herbal teas instead. Heating the water to brew the tea kills parasites that might be lurking in your water.
Starches are much less inflammatory than sugars. The reason it matters whether they are refined or not is because fiber slows down digestion, and therefor the degree to which blood sugar levels spike.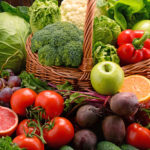 Generally it's a good idea to get plenty of fiber. That's one reason that a low-inflammation diet should have a high ratio of vegetables and preferably low-sugar fruits like blueberries. Another reason is because many fruits and vegetables are rich in anti-oxidants.
Notice that some fats are listed as inflammatory. The particularly bad ones are trans-fats, which are specifically fats that have been damaged through high heat, and also rancid fats, which have been oxidized. Trans fats used to be in most processed foods, but are getting less common and are regulated in some jurisdictions. They are typically made from liquid vegetable oils artificially turned into solid fats by hydroginating them. Ironically, part of the reason for doing that was to avoid the propensity for some polyunsaturated vegetable oils from going rancid, and rancidity is a health-hazard too.
The relatively healthier fats include cold-water fish oil, and stable vegetable oils such as olive oil and canola oil. Contrary to a popular meme, canola oil isn't GMO; it was naturally bred. The stuff I buy is cold-pressed because I don't want hexane in my diet. Olive oil is fairly stable at room temperature, but not at high heat; use it for salad dressing, not deep frying. Light sauteeing is OK. Generally high-heat frying and deep frying are not good ideas anyway. If you must indulge in deep-fried foods, preferably on rare occasions, try rice bran oil and keep the temperature down. Better yet is air-frying (coating food in oil, then frying it in a convection oven or dedicated air-fryer); it uses less fat so there is no temptation to re-use cooking oil after exposing it to heat.
Second lifestyle change: intermittent fasting
Scientists have long realized that caloric restriction prolongs the lifespans of lab rodents. It works on humans too. But it's only necessary to fast intermittently. Intermittent fasting restores insulin effectiveness; that's probably the part that reduces susceptibility to heart disease.  It also probably triggers some housekeeping operations in the body that scavenge damaged—and therefor potentially pre-cancerous—cells.
More lifestyle changes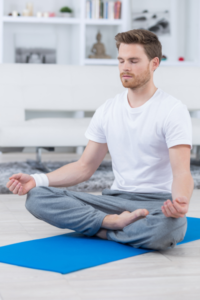 Stress triggers the release of the hormone cortisol. Cortisol has a useful purpose; the problem is when you get stuck in constant "fight or flight" mode. Humans are prone to chronic stress because of our ability to run simulations of the future. It's less of a problem for other species because their ability to anticipate future problems is much less than ours; instead they live in the moment.
Unwind and unplug at least an hour before bedtime, so that your mind is calm.
Get enough good-quality sleep.
Train your attention and your thought-stream so that you don't pointlessly worry about things.
Take action, then stop worrying.
Face-time with friends and family, doing things you enjoy doing. It doesn't have to be elaborate. Just spending time with loved ones will improve your enjoyment of living.
Daily time outdoors.
Daily exercise.
Here's a question one of Nassim Taleb's buddies posted, with different but comparable images: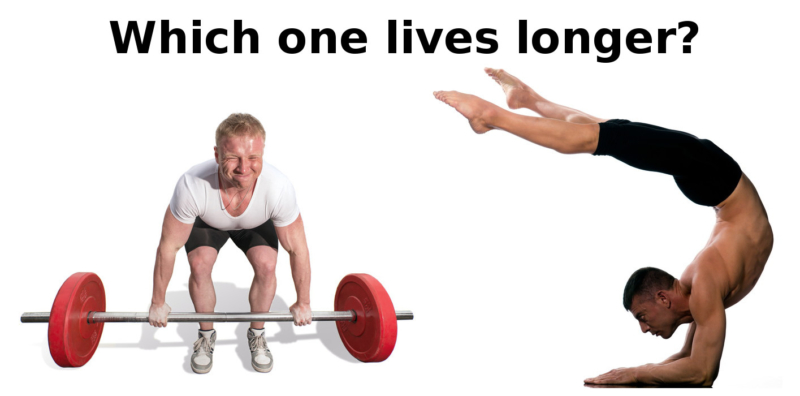 The assumption is that all other factors are comparable. One of these builds impressive muscles, but at the cost of inflammation and cortisol production. Nassim Taleb does weightlifting, which is probably why his buddy sent him the comparison.
I do yoga, but I can't do Vrschikasana ("scorpion pose" that the man on the right is doing). Obviously requires not only a lot of strength and balance, but control over a lot of different muscles at the same time. What I have been able to accomplish is regaining a lot of muscle tone and range of motion. I also do much more walking than average Americans. If you don't get any other exercise in, arrange your lifestyle so that you get plenty of walking in, instead of driving everywhere and sitting down all the time.
Hatha yoga is safer than free weights overall (no risk of dropping weights on your throat while bench-pressing; NB sad story on other end of link), but there are some dangerous poses (asanas). The important thing with any type of exercise is to know your limits and find a comfortable challenge, not too hard, not too easy.
Yoga has a reputation for being something that rich old ladies do (eg what Hillary Clinton was talking about on all that email she deleted). That's because it's very adaptable to different needs. Men can simply change the ratio of strength-building poses to flexibility and balance-building poses, though flexibility and balance are good too. There are a number of yoga programs specifically for men.
DDP yoga is not quite classic yoga, but in any case here is a video showing Arthur Boorman's impressive recovery of strength and range-of-motion:
Johnny Grube (wildmantraining.com) uses body-weight and isometric exercise in his own training. The benefits include lower inflammation, no need for special equipment or gym fees, and flexibility regarding where and when you work out. He likes to work out outdoors whenever possible.
Further reading:
Resources:
or