Are you ready for a major financial event?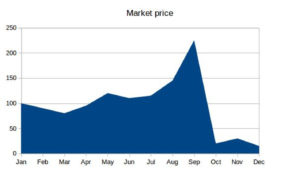 Catastrophes are hard to predict. If an undesirable event is predictable—like the exhaustion of the sun's fuel reserves, or the eventual erosion of the earth's atmosphere, then those aren't usually thought of as "catastrophes". A catastrophe is when a complex system suddenly changes state. The complexity of the system and the suddenness of the transition between states makes it hard to predict.
You might know that a certain bridge has been going without maintenance for some number of years, but it's practically impossible to predict the very day or even the year that it's going to collapse. The day before it collapsed, people crossed it without incident.
There is always something you don't know about that impacts the system, like one of the trusses holding up the bridge being rusted through, and a particularly heavy load of trucks and buses that randomly converged on the bridge.
In the case of a stock market, if you expect it to crash, something might happen that you don't know about, like a secret market intervention to keep it propped up. If you tried selling it short, you might end up with a loss when a stop hunting algorithm runs your stops, or worse, when you ended up with a margin call.
That's why, according to risk-management expert Nassim Taleb, it makes more sense to evaluate your investment strategy's vulnerabilities and address those to minimize the damage when the unexpected event happens. If you do a particularly good job of evaluating and planning for risk and reward, you might even end up with a profit due to "antifragility".
So repeating other people's warnings about the possibility of a significant financial event later this year or maybe next year must not to be construed as tradeable advice. It's more analogous to reminding you to clear dry brush away from your house ahead of a long, hot, dry summer.
This post is ultimately not about when a major financial event will happen; it's about whether you are prepared for one.
U.S. Weeks Away From A Recession According To Latest Loan Data
Asset markets are likely to plunge before a recession is officially called. Here is some of the same information, and more like it, from another source:
In the USA, it is the National Bureau of Economic Research that officially calls recessions, and they typically wait before calling one so as not to create a self-fulfilling prophesy. The official standard is two quarters of economic decline. Relatively short or moderate recessions tend not to be announced.
The next recession, however, is likely to be a big one due to the size of China's credit contraction.
Jim Rogers: "We're About To Have The Worst Economic Problems Of A Lifetime, A Lot Of People Will Disappear"
That headline sounds more sinister to me than it was probably intended. Judging from the context, my guess is that by people "disappearing" he means that even big, politically-connected financial companies like Bear-Stearns go bankrupt because when the crises hit, they happen too fast and too severely to organize bail-outs to save them all.
I am not a financial expert, but to the best of my knowledge, something like this happens: let's say that without warning, some large entity in China defaults on a big payment. Financial companies tend to hedge their positions, so they tend to come in pairs. If one position becomes worthless, they have to close out the position they were hedging it with. Then the counterparty to that trade has to rebalance his own position, and so on. There is also the phenomenon of "cascading defaults", whereby A can't pay B, so B can't pay C, so C can't pay D, and so on. It's a little like a nuclear reaction that goes critical. It tends to cause a lot of net selling of positions, and it happens faster than financial regulators can set up meetings to decide what to do about it.
Whereas stock markets and bond markets have "circuit breakers" in place to artificially slow down selling, the derivatives market is less regulated, and largely invisible to regulators. And the derivatives market is gigantic.
According to Jim Rickards, who experienced the LTCM debacle first-hand, the regulators are trying to gain control over one of these runaway financial meltdown scenarios by implementing a protocol he refers to as "Ice-nine". It involves rapidly freezing up brokerage accounts of all kinds, bank accounts, credit cards, and ATM machines. The purpose is to save the system, not the individual, and it would be hard to ever un-freeze it. My guess is that if it were ever implemented, bank accounts would be worth a lot less by the time they were unfrozen.
Now let's cut to the chase: if the predictions of a big financial event come to pass, sooner or later, what is the likely impact on a typical reader of my blog?
Unfortunately I don't know the answer to that question any more accurately than I can predict the timing of the event in the first place! Again, it's a matter of assessing vulnerabilities.
The most likely vulnerability is if you actively trade stocks, or if you have exposure to the stock market through a defined-contribution retirement plan such as a 401(k) or 403(b). Stocks would likely take a hit in an LTCM-type event.
Some people would lose their jobs as the result of a financial crisis and/or recession, and many would go insolvent. They might end up selling assets at losses, and defaulting on loan payments.
Worse, but less likely, is a banking crisis.
Banks are becoming less safe…again
One reason a banking crisis is less likely than a crash in the stock and bond markets is because regulators realize how important banks are to the modern economy, and so make it a high priority to protect them. Banks are the remittance system for paying bills and collecting payments; if banks suddenly stop operating, then bread stops showing up at the store, because the baker, delivery company, and truck driver aren't getting paid, and the retail customers wouldn't be able to pay the store anyway.
That said, just because consequences are dire doesn't mean something bad can't happen.
The car has to stop, because if it doesn't, it will hit me!
—what the deer in the headlights thinks
The Eurozone's banking crisis has never been resolved. At the moment, at least two Spanish banks are in trouble, and they might get "bailed in".
Shock Waves Spread from Spain's New Banking Crisis
A trend tends to continue until it exhausts itself. My guess is that we won't dodge the bullet forever. In fact, the magnitude of catastrophic financial events has been increasing with each new event.
What a lot of people are doing to prepare for the possibility of a financial crisis are prudent precautions such as:
allowing "paper assets" like stocks and bonds to constitute no more than a small ratio of their net worth
maintaining low debt (better yet, none) and plenty of ready cash in the bank
keeping bank account balances below the "insured" limits (currently $250,000 in the USA)
keeping some physical cash in a secure location
accumulating gold or silver coin in a secure location. Precious metals in your own possession are not someone else's liability; they don't get defaulted on.
NB: not too long ago, I read some financial advice from someone who has a lot of followers on Twitter, suggesting that a "dollar cost averaging" investment plan is insurance against stock market crashes and bear markets. There are numerous personal circumstances and market scenarios that dollar-cost-averaging won't protect you from, like if you already have a big nest egg in the market, and/or you keep pouring money into a long-term bear market (that's called "throwing good money after bad").
Someone should also tell him that investment advice is regulated in the USA, before he gets himself into trouble with regulators, or opens himself up to a lawsuit. For that reason, here is my own mandatory disclaimer:
This post is for informational purposes only. Nothing in this post should be construed as advice to buy or sell securities. Make your own financial decisions after consulting with a qualified financial professional.

Namaste! The Divine within me honors the Divine within you. I tell stories about lessons I've learned the hard way.