Is Globalism 2.0 any different than Globalism 1.0?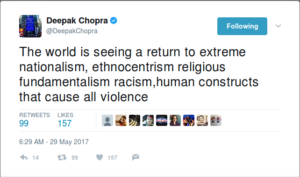 ALL violence? Soooo…when a tiger chases down a deer and crushes its throat, that's caused by nationalism, ethnocentrism, religious fundamentalism, and racism, which are human constructs? I'm pretty sure that violence pre-dates humans. And I'm also pretty sure that humans are animals.
The tiger killed the deer because it was hungry, not because of "speciescentrism". The Soviets staged a bloody coup in Russia to seize control of vast mineral resources in Central Asia. The Nazi army invaded the Soviet Union trying to get to the Caucasus oil fields. The whole point of war is seizure of unearned resources; differences like race and religion are never other than pretexts to motivate the serfs to sacrifice their lives for their masters.
If you want peace, teach people to find contentment and meaning in something other than control over human and natural resources, or in other words, go the opposite direction and create 7.5 billion sovereign individuals respecting each other's rights to life and property and organizing themselves voluntarily. Creating one big worldwide plantation slave-state is the opposite of that.
Even if the world were "united" under one single global empire, and the peoples of the world were forced to all assimilate to an artificial globalist culture, the killing wouldn't end, because resources would still be limited. If anything, it will get worse as the globalists discover that they have reached the limits of their power and vainglory, and are still dissatisfied with life.
The Globalists are themselves are heirs of the biggest mass-murderers of all times. They were after the natural and human resources of Russia, China, and ultimately the whole world.
Communists used to commonly refer to themselves as "Internationalists". They were Globalism 1.0. They were the original Globalists, and the modern Globalists are their direct heirs.
The original Globalists made big promises about peace and workers' paradise that were supposed to occur once the world was united under one supposedly benevolent communist system (they claimed their dictatorship would go away once no longer "needed").
That's a wealthy, drug-addled English rock-star singing the promises of Communism. The visuals show him and his wife first strolling on his country estate, on an avenue lined with ancient Rhododendrons imported from British Imperial India, stopping at the door of their mansion, then mysteriously teleporting into the interior. It reminds me of billionaire globalist allies like J.K. Rowling encouraging Europeans to invite immigrants into their homes from the seclusion of her gated estate. Someone else's cognitive dissonance is jarring to me.
This is what the original Globalists actually delivered:
The Red Terror under the Bolsheviks
The massacre of Christian religious orders
The Holodomir
Genocide of peasants for "Kulakism"
The Katyn Forest Massacre (British propaganda ascribed to the Nazis; it was actually committed by the Cheka which is now openly acknowledged)
The Great (Soviet) Purge of 1937-38
The Genocide of the Baltic Peoples
Purges in Eastern Europe after Soviet takeover
The Mongolian Terror (Buddhists exterminated under orders from Soviet advisors)
The Communist Purge of China
The Maoist "land reform" mass executions
The "Great Leap Forward", also known as the Great Famine
The Great Proletarian Cultural Revolution (numerous people killed to purge cultural legacies)
The Khmer Rouge Genocide
I'm sure there are many others that slip my mind at the moment. The original Globalists killed so many people it's hard to keep track of all their mass-killings.
Total estimated body-count (so far): around 100,000,000.
Aside from the human casualties was systematic cultural destruction:
Artists, literati, philosophers, and scientists systematically purged, and replaced with communist pseudo-intellectuals.
Artistic, historical, and religious artifacts systematically destroyed.
Minority languages repressed & replaced with global languages.
Churches, temples, and monastaries systematically destroyed, shut down, or used for other purposes.
History systematically destroyed and re-written.
If you're observant, you might notice the same phenomena going on again today.
The point of cultural destruction was to replace variety with an ugly, government-sponsored global sameness. Supposedly if the peasants have no cultural identity, then they won't fight with each other, but I suspect it has more to do with the aesthetics of the ruling class. Actually, the peasants don't fight with each other unless goaded into it.
One more interesting trait shared between Globalism 1.0 and Globalism 2.0: "science" is their substitute for religion. Communism used to be called "Scientific Socialism". The expression was still widely in use when I was a boy. Globalism 2.0 spawned "Scientism", or in other words the (ab)use of Science to promote political agendas.
Are there any significant differences between Globalism 1.0 and 2.0? I doubt it. It would seem that whereas Globalism 1.0 was blanket anti-religious, Globalism 2.0 is superficially Islamophilic, and tolerates westernized Buddhism. I suspect the first case is just a matter of utility over ideology; once Wahabist Muslims are done conquering Europe (Syria, Iraq, Iran, etc), they might be encouraged to secularize, unless their propensity for blind obedience to authority is deemed too useful to give up.
Buddhism is tolerated because it is an almost completely non-competitive religion, and in its modernized and westernized form, lacking in elements offensive to Globalists. Serious practitioners are expected to be celibate beggars; it's perpetually in a state of helplessness and genetic suicide. Except in a few mutant variations like in Myanmar, it generally poses no political threat or even any relevance. And in its westernized version, it's devoid of any cultural or mythical artifacts, and is generally considered to be non-theistic.
It's worth pointing out that real Buddhism does include historical and cultural artifacts; it has a fairly extensive mythology of its own, plus local mythologies inherited when it assimilated tribal cultures as it spread.
It's also worth pointing out, as many have, the Buddhist concept of Śūnyatā is effectively identical to the concept of Godhead in Christian mysticism, eg Meister Eckhardt, or for that matter, the Vedantic concept of Brahman. Buddhists simply discount a creator role for God because they assume that the world has always existed. So, even though Buddhism is considered non-theistic (which is not the same as atheistic; dentistry isn't "atheistic" even though it isn't thestic), it does contain elements that could potentially be considered distasteful by the Globalists.
Which is why the only form of Buddhism tolerated by the Globalists is the westernized, modernist version gutted of all of what Deepak Chopra would call its "cultural constructs". It's comparable to the Hindu practice of Hatha Yoga being modernized by being stripped of all its spiritual significance until nothing remains but a commercial exercise program for yuppies and rich old ladies.
What about body-count? Globalism 2.0 hasn't racked up much lately, aside from genocide of ethnic and religious minorities in Syria and Iraq, and some terrorist attacks it secretly sponsors elsewhere. The argument I keep hearing is that nowadays they have more precisely-targeted weapons systems, and can therefor reduce body-count.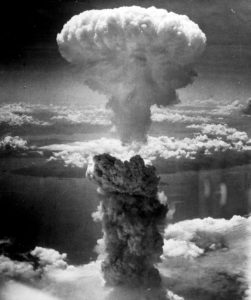 But do they want to? First of all, they're planning a war with Russia, and another one with China. Those alone would be catastrophic.
The global population clock is currently at 7.5 billion, and the Georgia Guidestones (more New World Order than Globalist, but I think they have some common understandings) state that they want it under 500 million. My guess is population culling will happen through famines and, if necessary, bio-warfare. Hence the Globalist 2.0 obsession with seed vaults and vaccine programs, in order to maintain control of the culling.
My guess is that Globalism 2.0 will outdo Globalism 1.0, in horrible ways.

Namaste! The Divine within me honors the Divine within you. I tell stories about lessons I've learned the hard way.